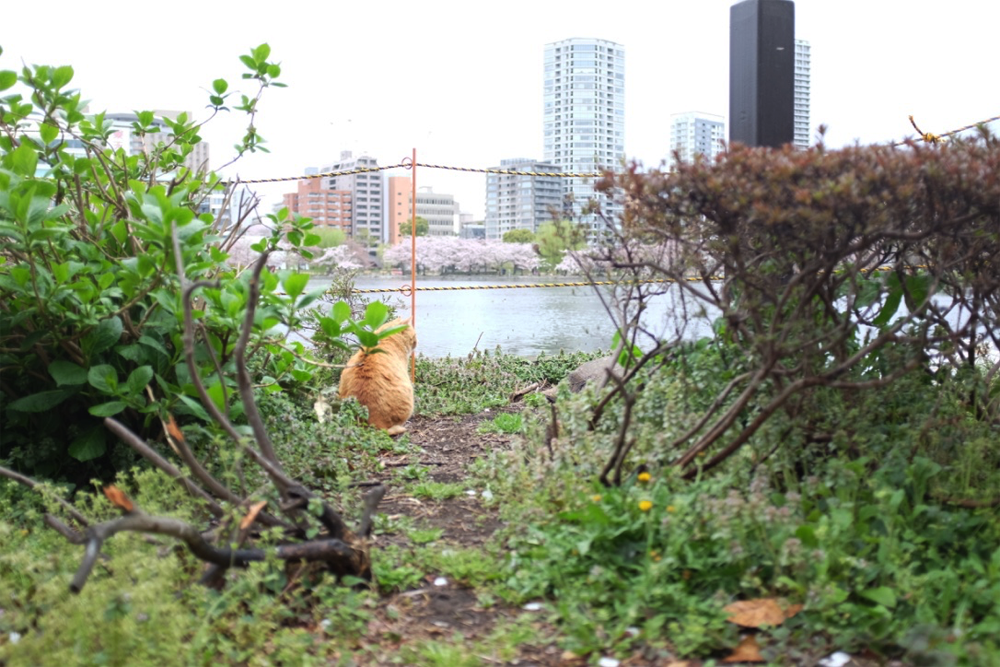 Here's a thing about traveling a good amount in a shortish period of time: wherever you go, there you are. And you get to find out exactly what that means.
I have a cat tendency. I spot them, I study them, I follow them, and when I come across them, I feel I've intersected with the actual life of the place. (Other repeated things I enjoy: coffee, outdoor food, pastries, popular city parks, walking tours, and cemeteries. These constants give me some easy, interesting comparisons between the places I go. Coffee in Japan is much different than coffee in Paris, for instance. I love them both.)
In Ueno Park (which I will get into more soon), this was the second cat I saw. The first was grey and soft and gently misted over by the day. An older lady was kneeling next to him, opening a carton of milk and then pouring some into a bowl. The cat dug right into it. I considered taking a picture, but I decided to observe and leave it be, imagining she was doing a daily or weekly ritual of giving this cat a little treat.*
Real estate is tough in Tokyo, and I understand that pet-friendly housing is exceptionally hard to come by, hence the explosion of cat cafes. So to see a woman doing a bit of gentle caretaking for this furry friend in the city's most popular park felt like getting a glimpse into how people stay sane and balanced in a place of such extremes. Furthermore, there was a particular beauty to  a private moment taking place within sight of what I immediately named the Selfie Tree, a red bud tree so profusely blooming that 1. it was a solid, searing tree-shaped field of magenta, and 2. it was perpetually surrounded on all sides by singles and groups selfieing in front of it. Behold:
If I hadn't also spent a morning at Shinjuku Gyoen, I might declare this the most-selfied flowering tree in Tokyo. I grabbed a snack from one of the nearby tents so I could munch while watching people take pictures in front of this tree, over and over again, delicately keeping the shoulder-to-shoulder hordes out of frame. I wonder where the pictures go, whether they're only for social media or if they get printed and added to some more permanent archive. I wondered this while biting off Hello Kitty's waffle head.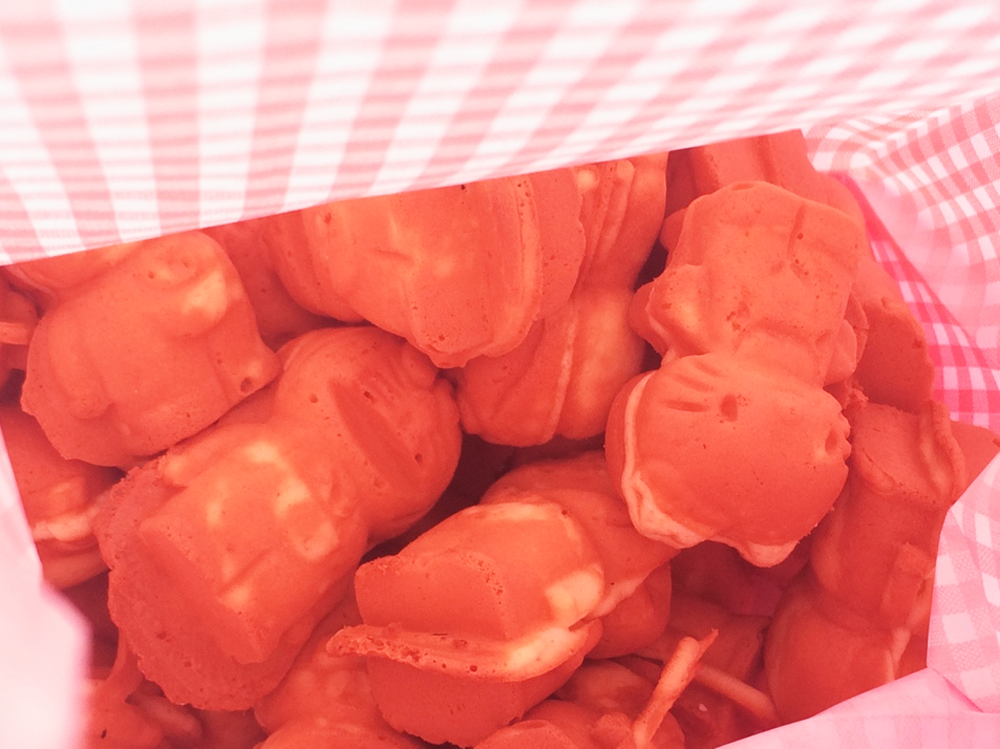 Twenty of these for ¥500 (about US$5 that day). A bargain at any price, though, to be honest.
Ueno Park was my first day setting out alone in Tokyo. This trip happened when cherry blossom season was about 60 percent past, which meant that while I was scouting cherry blossoms, so was most of Tokyo. We didn't plan the timing this way, but I recommend it, and not just for seeing blossoms. The flowering trees there are lusher and bigger than the ones in Seattle, so I found them worth seeing for that reason. But to visit a country at the same time that the locals are marveling and flocking to see the area's natural beauty with the same fervor as someone who crossed an ocean to do it – that's a special thing. While I never felt of Tokyo (hard to do when you're a 5'8″ white lady with some pink hair), in that moment, I felt brought along for something special that Japan has been rejoicing at for centuries. I do love some flowering trees, to the point that they're among my favorite things in Seattle. But to see locals picnicking on tarps, feasting and sitting and watching and taking picture after picture, all of us thrilled to be there, all of us so glad at that moment? That's worth crossing an ocean for.
*Once, years ago, when my small cat was sick and had trouble taking in calories, I tried giving her cream, hoping the nutrition in it would outweigh any lactose-intolerant effects. Later, cleaning diarrhea off the side of the litterbox, I apologized profusely. She was unimpressed. But then she is always unimpressed.