But you know what? That's ok. I still saw plenty.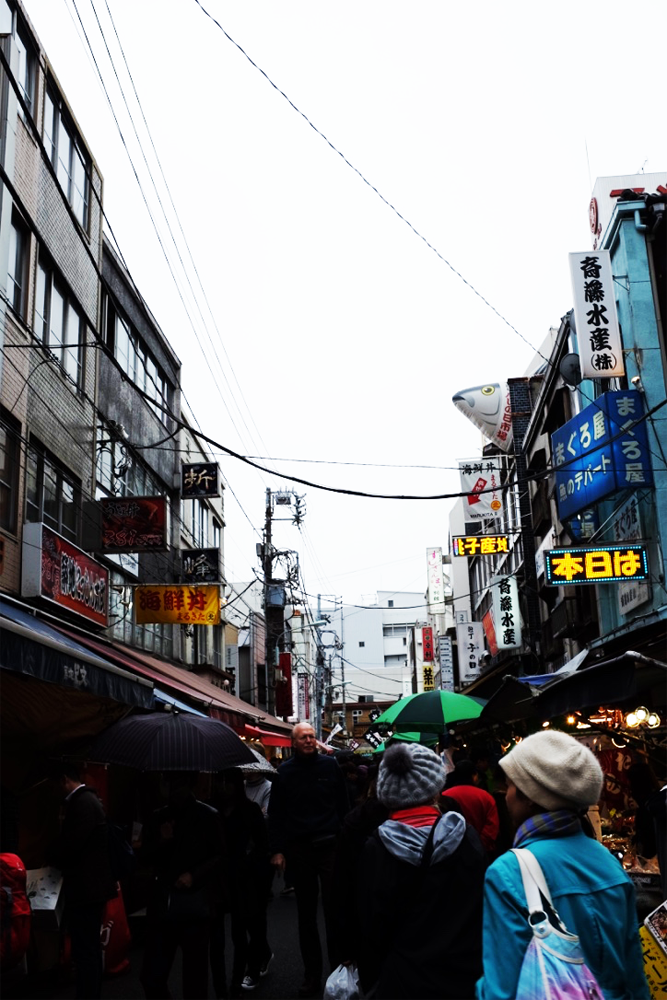 This is the crowd at about 8 am on a Sunday in April at Tsukiji Fish Market. (Say "tskEE-jee.")
I had arrived the day before and barely managed to make myself wander Akihabara before calling it a night. The thing to do, per every guide and every person who has been to Tokyo or maybe heard of it once, is to get up ass-early (that's any time between 3 and 7 am, per my body's clock), somehow get yourself to Tsukiji even though the trains aren't running yet, and register for the tuna auction audience, for which only 3.5 seats are available*, and, and, and…
I set an alarm for 3:30 (sorry, hostel-roommates), just to see how I felt. I woke up, still fully dressed, underwires pressed into permanent grooves on my ribcage. (Woe to the person who thinks they're just going to lie down for a quick nap at 7 pm after flying across an ocean, for thou art fooling thyself.) I squinted at the streetlight coming through my window, said a very quiet yeah no, Houdini'd my bra out from under my cozy wrap dress, and rolled back over.
I woke back up at 6:30, the first time that has ever been considered late for me. I took a shower in possibly the nicest hostel shower on earth – not fancy, but immaculately, reassuringly clean, and so needed after my 10-hour flight the day before. I shuffled out by 7:30 for a quick breakfast (ordered from a picture menu, of course) before I hit the train for my first proper Tokyo outing.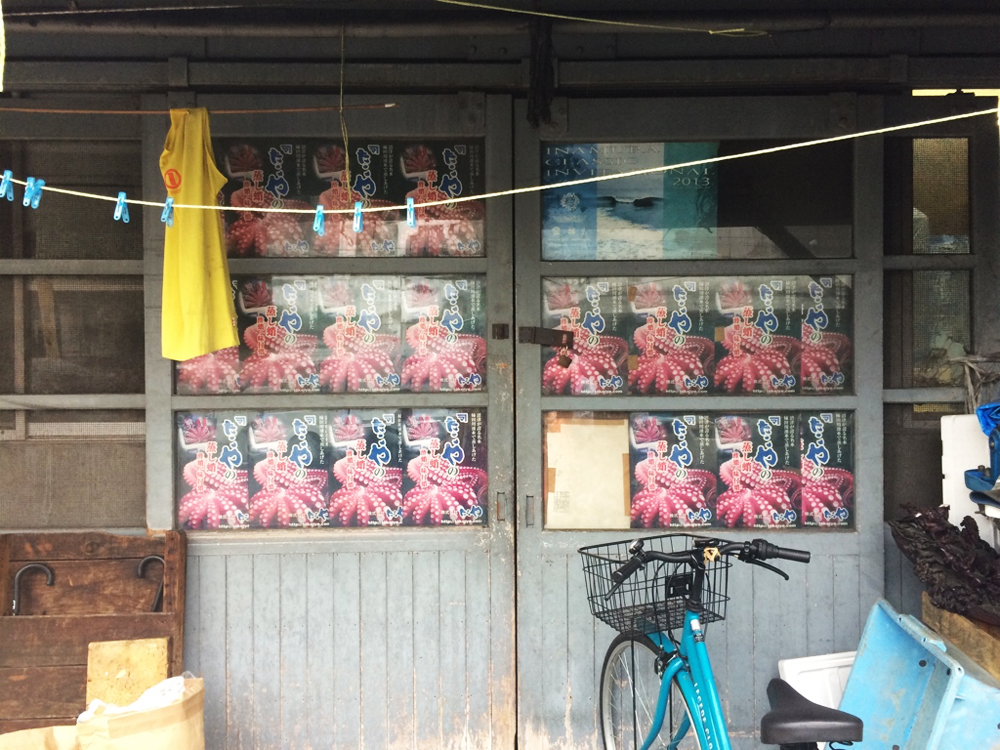 My first job was at a farmers' market, when I was 14 and new and being paid under the table. (Soulard Market, I still adore you, never question.) I've had an affinity for open-air food markets ever since. Tsukiji is a mix of things in the way that happens when a market is both functional and a wildly successful tourist attraction: dizzying tables full of beautiful, intricately painted sushi dishes; tanks of beautiful, doomed fish; readymade food stands; and crowds and crowds and crowds. Still too shy and jet-lagged to make the most of things, I instead wandered through like a wraith, ducking down narrow alleys with counters with a scant five or six stools, peering into knife shops, and marveling at the mix of locals and tourists. (You can tell the latter from the former by their ability to maneuver a corridor or any other straight shot of pedestrian thoroughfare. This is a universal language; these days, I navigate Union Square in San Francisco five days a week, and my ability to tell a tourist at 50 paces has grown even sharper.)
This is my favorite near-miss picture:
Still getting used to my new camera, I knelt before these crabs and fiddled with settings for a moment before I was ready to take this one. In the moment before the shutter opened, an older man ducked down, knelt into frame, and gave me a quick peace sign and a giant, cheesy grin. He then leaped up and apologized profusely, even though I laughed and tried to ask him to do it again. It's easy to get bitter at tourists when you just want to buy your damn fish and get home to make lunch; to see someone take the piss in such a good-humored way was a good way to start the trip.
I also didn't go to the most famousest ramen place. I will let you figure out why.
Not all of this is the line, but more of it is than you might think.
After I roamed the narrow hallways and alleys and streets, taking in my first bit of Japanese morning, I went to the more industrial area of the market. These pictures are fewer because I had to make sure to, well, stay alive.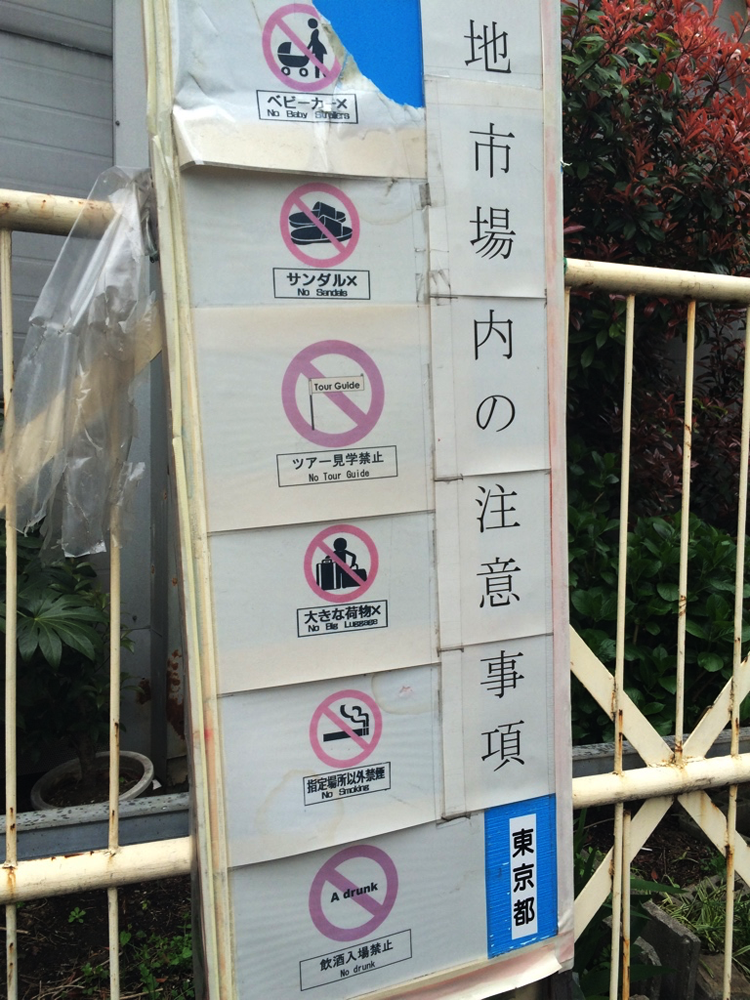 This is all really good advice with not a bit of overstating present.
Once you emerge from the market aimed at individuals, you find yourself in a lively shipping yard, threaded by small, screaming trucks, one seat wide with a tiny flatbed behind, which zip around and by you in a somehow flawless ballet while emitting the most appropriately eerie high-pitched whine. No drunk indeed – you'd be street pizza.
I ended my trip with a few oysters, pulled from running saltwater by a man standing sentinel between two tanks, patiently weathering tourists taking picture after picture. I just gave him money and took these to the little eating area across the way. I couldn't find chopsticks, so I just tipped them into my mouth, scandalizing someone, I am sure.
So: Tsukiji Fish Market. I shaped my plan with Lonely Planet and a featureless amalgam of "So you're going to Tokyo" to-do lists on various travel blogs – I found them remarkably consistent. Maybe you're more patient than I am and are game to wait in a long-ass ramen line, or maybe you're willing to get up at ass-early and take a wildly expensive cab across town. But the way I did it was just fine too – wading through crowds, gawping at fish, dodging certain doom via people just trying to do their job ok thanks. A fine welcome to Tokyo, and a good introduction to the very particular kind of keeping on my toes that I found crucial while I was there. Plus oysters.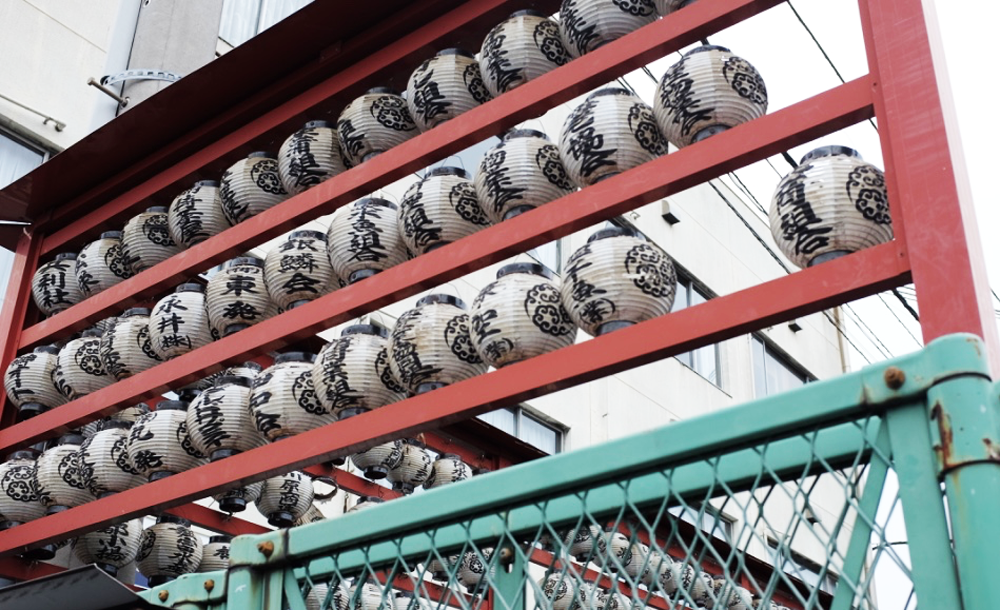 *Ok, it's like 40 or 60, but every recommendation drips with doom at the LIMITED SEATS and YOU ARE GOING TO MISS IT no really GET THERE AT FOUR, GET THERE THE NIGHT BEFORE AND CAMP OUT LIKE YOUR SAD BUDDY DID FOR THE PHANTOM MENACE, oh god you're already blowing it, it's too late.