My first time in Oakland, I biked past Lake Merritt with Amy. Trailing behind her and freaked out about the passing cars, poor cyclist that I've always been, I only just managed to catch the sign for Fairyland, unlikely colors glowing over the lake's rippling surface. I thought quickly of Breakfast of Champions*, which only made the sight weirder. When we stopped later, I asked her, out of breath: what – no, seriously, what – is this Fairyland that's on the edge of this lake in the middle of Oakland, a town I was only just starting to dispel my stereotypes about.
As I remember, she said, "Oh, that," with a little smile. "We'll go next time you come."
I was here once more before I made it there, but made it there I did.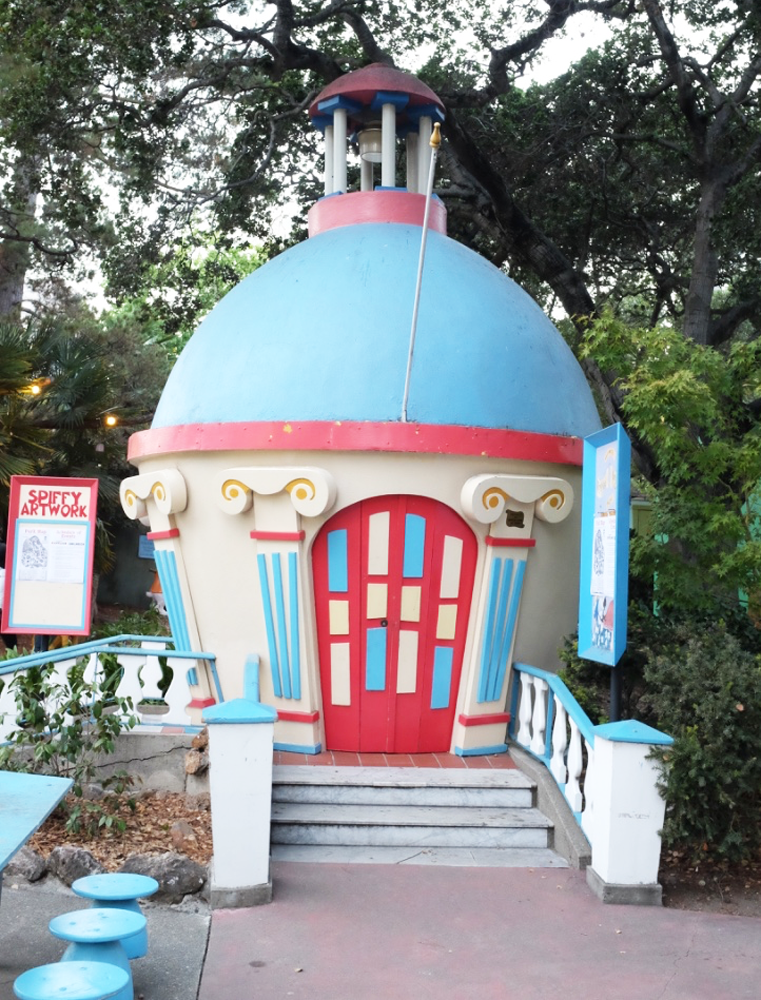 Here's a thing about Fairyland: adults can't come in without a kid. This is for safety, I'm sure. However, it also keeps it an entirely earnest venture, I think. And that's part of both its wonder and wonderfulness. I wandered Fairyland for a couple of hours on a darkening August night, and it wasn't enough. I want to, as I have joked/"joked" many times this summer, borrow a child and get to spend a little more time there.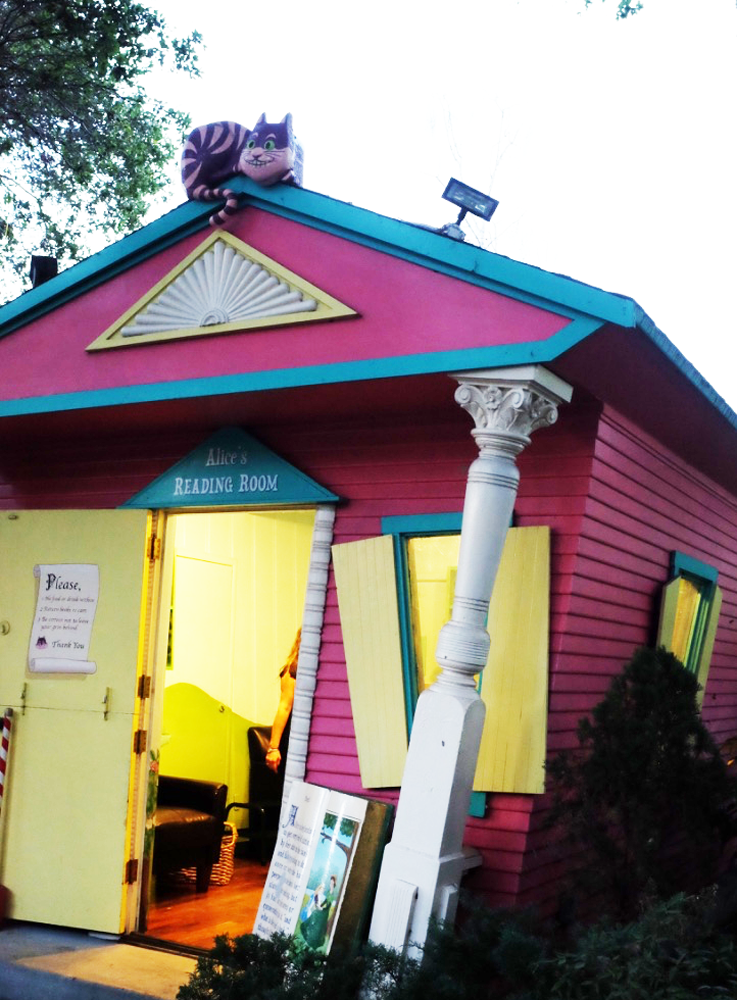 There's a natural echoing feeling between Fairyland and Disneyland, but Fairyland came first in this chicken-and-egg situation: Walt Disney toured it and several other theme parks when seeking inspiration for his own, a million times bigger and grander than Fairyland could ever be on its own little plot of lakeside land. But Disneyland's size means it can never have what makes Fairyland so wonderful to me. Amy told me that there's an annual painting party to keep it up. And that surprised me – considering the nature of most attractions trafficking in fiberglass and cartoon characters, I expected something a little rundown, illuminated for others by the light of their memories of beautiful days when they were five or six.
But no. Fairyland was, is, and remains beautiful, and beautifully devoid of irony. It is what it is and does so earnestly, which is something I admire a great deal in both people and places.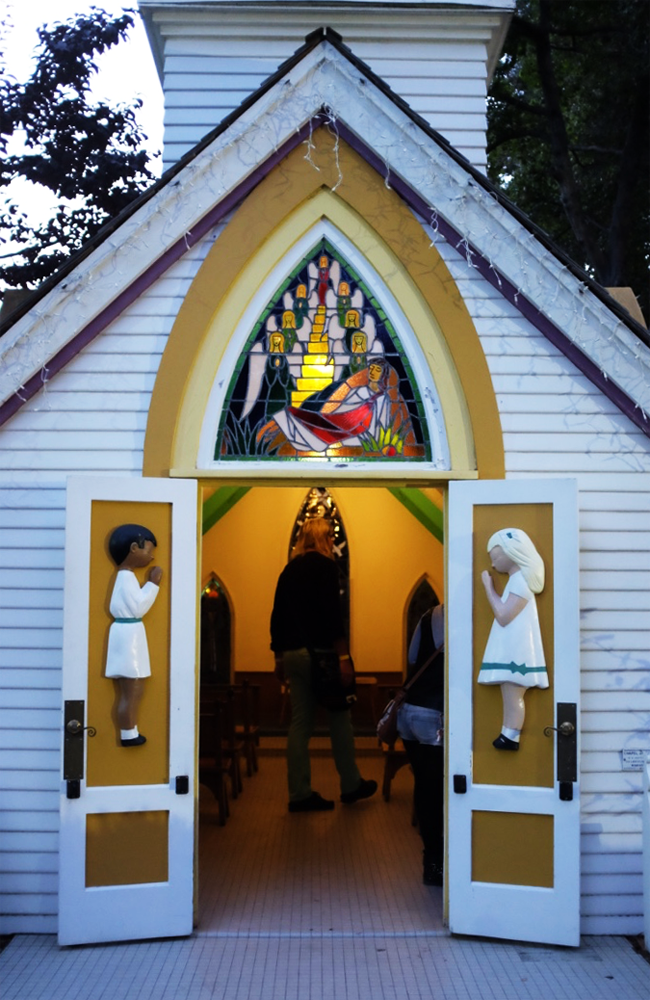 I got to go to Fairyland without borrowing a child for an afternoon. It turns out that my season in the Bay Area was perfectly timed: almost perfectly in the middle of it was Fairyland4Grownups.
Three hours, once a year. Money goes to keeping admission low for local kids; attending adults get to wander the park and enjoy complimentary beer.
The annual adult's night is a Thing. A wonderful, wonderful thing. And so is dressing up for it.
I was fortunate enough to notice this tradition as I walked by the line on the way home from school. Doubly fortunately, I brought something costumey to wear in my tiny travel trousseau: my Auntie Mame caftan cape thing, all flocked peacocks and beads and fringe. I got to join in the fun at least a little bit. I didn't bring as much joy to the world as the woman in the purple feathered headdress or the full-on ren faire-clad folks, but I brought a little fabulousness to Fairyland. Not that it needs my help.
When you walk through Fairyland, you get to be submerged in something a little magical.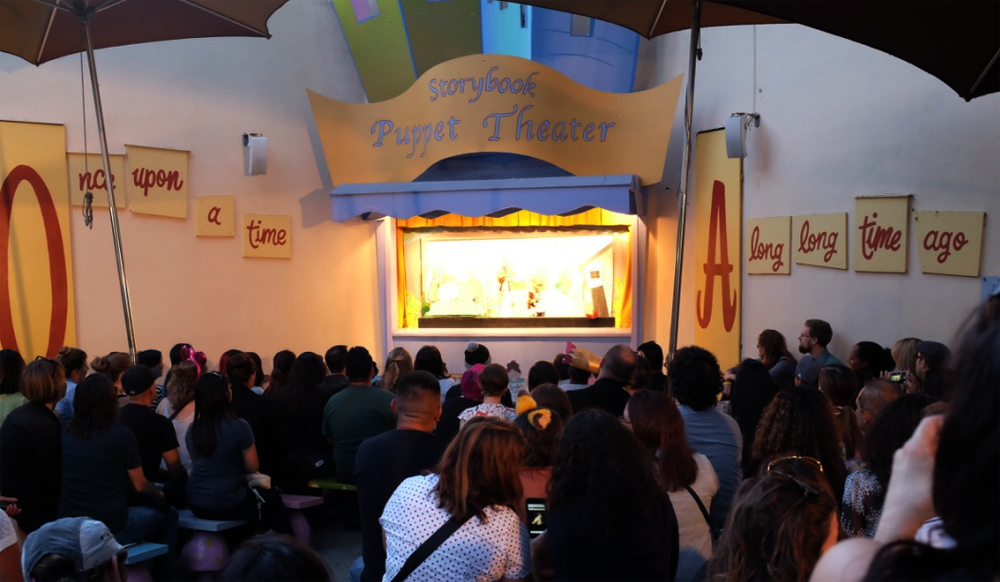 Like seeing dozens of adults quietly, respectfully watching this wee puppet show, acted out by small felt figures to a recorded soundtrack. They change the show once a season. Someone's job is to make or revive a season of shows, four each year.
These guys. Painted every year. They are perfect.
And then, to my regret, night started falling. Fairyland is only open to grownups between 7 and 10, and I hadn't gotten there until 8. So I took as many pictures as I could in the fading light, the place becoming absurdly pretty during that quick blink of the magic hour.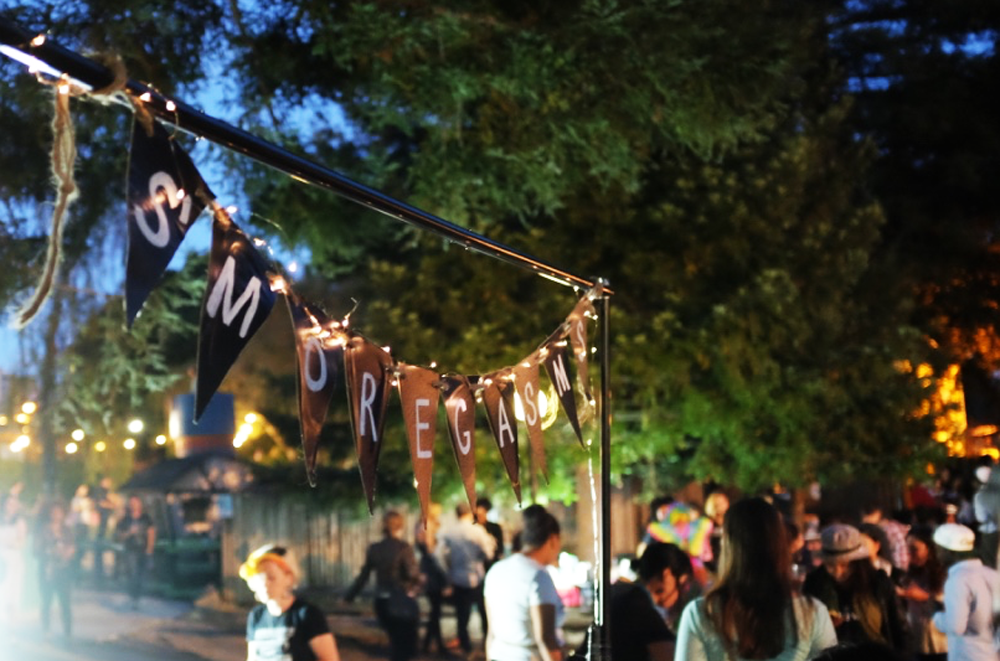 But I found a way to console myself.
Because this is an event in the Bay Area, by law there must be food trucks. I started with this – it's actually Multiple Smoregasms, but I only had one because 1. there are diabetics in my family, and one can only muck about so much, and 2. $6. I had red velvet, dark chocolate, and Guinness + chocolate. Small; mighty; worthwhile.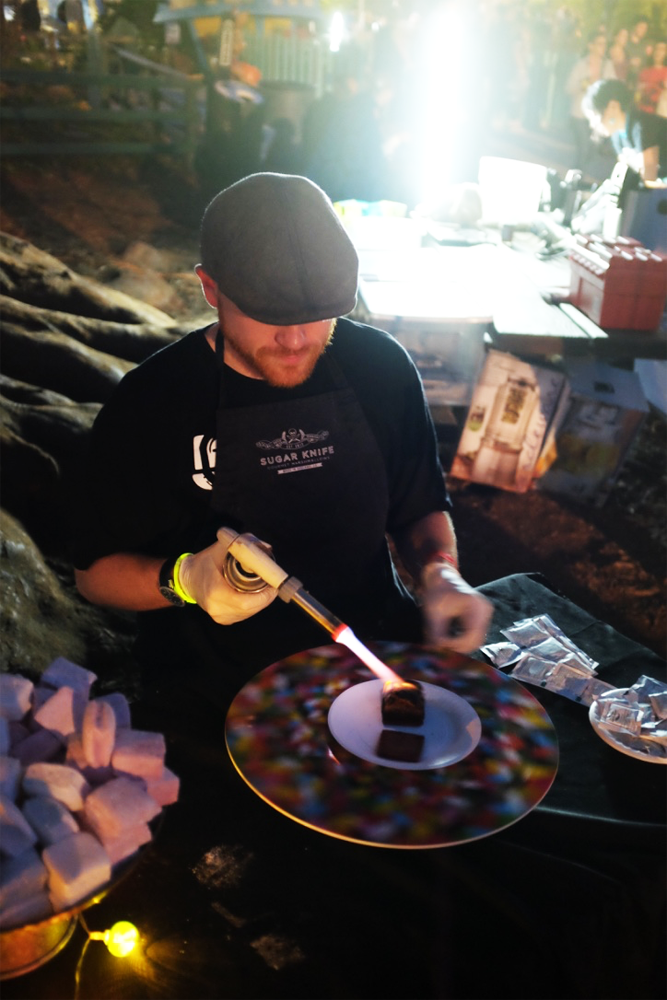 And each made to order by people who'd gone to some length to make every aspect of this as beautiful and perfect as possible. (They do weddings more often than events, they told me, but do this night at Fairyland every year.)
Dessert dispensed with, I walked past piles of fried chicken, tacos, and succotash only to end up getting… pizza. I was hungry, it was ready, and I was very happy for it. I also got in a half-hour line for stroopwafel, one you could fortunately wait in via text. I felt my own insta-nostalgia of being in Amsterdam in November, where the stroopwafel comes in packs of ten in crinkling cellophane bags, and you place it atop your steaming tea so the caramel inside becomes soft and gooey. It is perfect, and when I saw the sign, I immediately knew I would be giving them money too.**
This was a little different than my beloved Amsterdam convenience store multipacks, but not nearly as much as I expected. They let me sub cheese for bacon in their Figgy Piggy, making it a Figgy Cheesy, and so, once I'd finished my dinner and hung out in the grass with friends for a while, I was summoned to pick up my fig-cheese-caramel stroopwafel, something which sounds mildly abhorrent but is actually exquisite. I talked to the guy making it, enjoying both his top hat and his (in this area) unlikely southern accent, and he kept remarking, with some admiration, "This is gonna be decadent." It was.
I dispensed with my third course of the night fast, and then I was mildly nauseated and ready for another wander.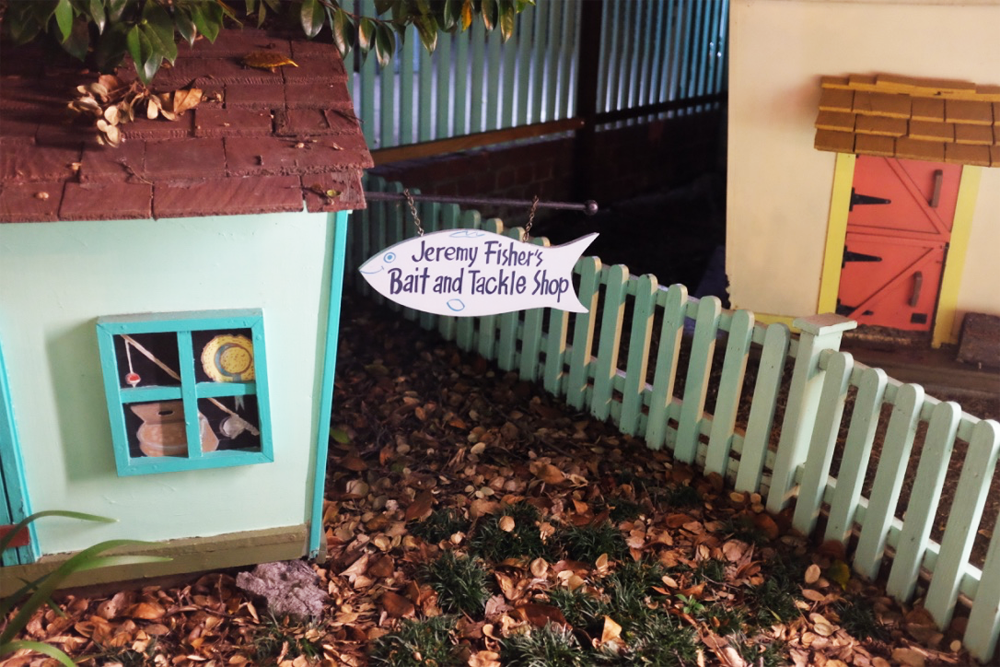 Where the light allowed, it was even prettier at night, particularly at this tiny village.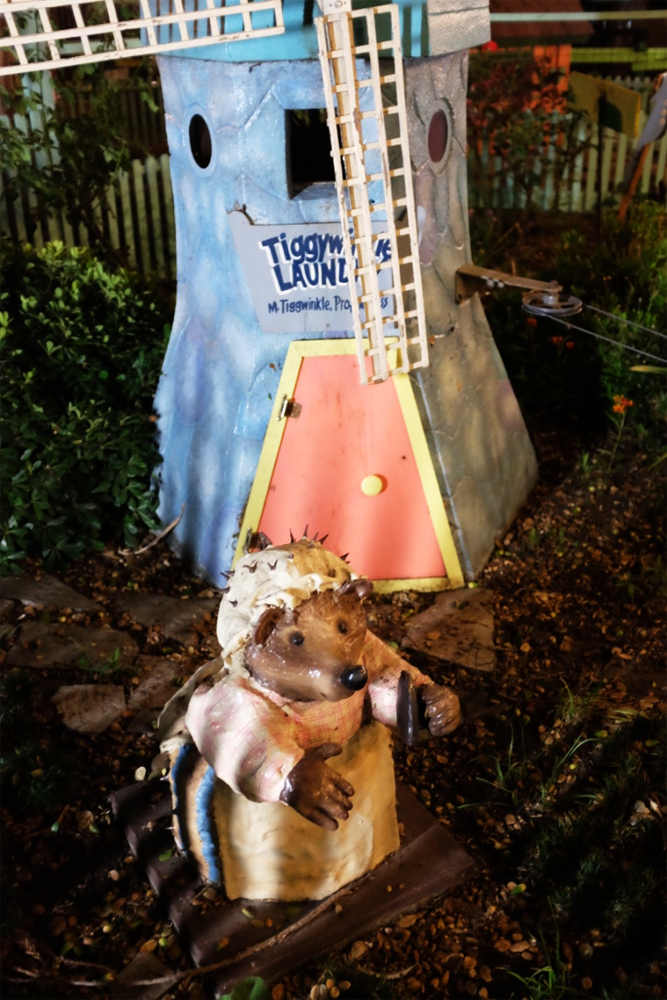 I wandered along winding sidewalks that threaded between tiny houses, few of them much taller than my knee. A complete labor of love.
This melancholy fellow was well above me, though. If it's Pinocchio, he gets punished more at Fairyland than in the usual telling.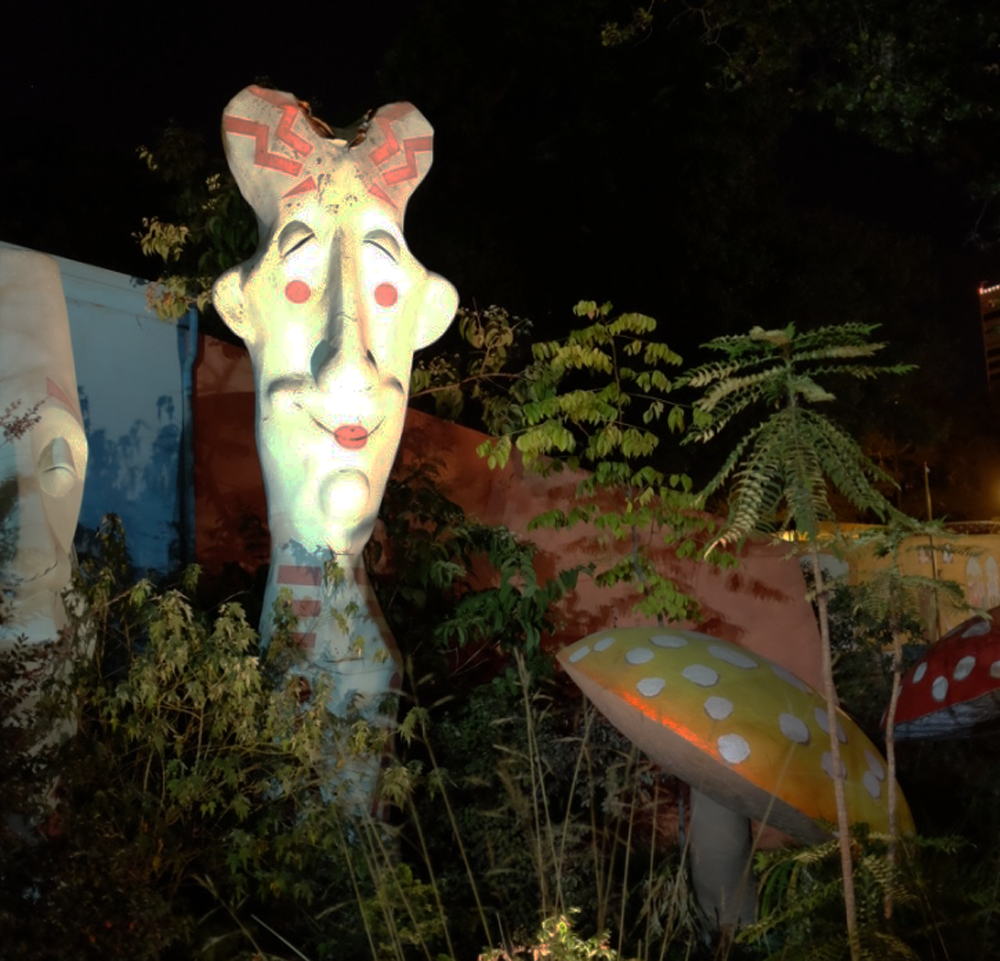 And some of it grew wonderfully eerie at night, minus sunlight and full context.
Earlier in the evening, I watched a guy trying for a good minute-plus to get just the right selfie with this dragon near the entrance. Inside its nostrils were two plasma balls; its eyes moved when you pulled the tongue-strap back and forth.
And then it was ten, and the nostalgic drunks by the whale and on the astroturf-covered hill and dancing to incongruous music among Wild West-style buildings had to go. The staff looked a little wild-eyed as we left, finally done once again with this weird annual ordeal. Apparently beer-fueled adults are more daunting than throngs of ecstatic children. I'm not sure I'd agree, but I haven't had a job corralling people in a long time.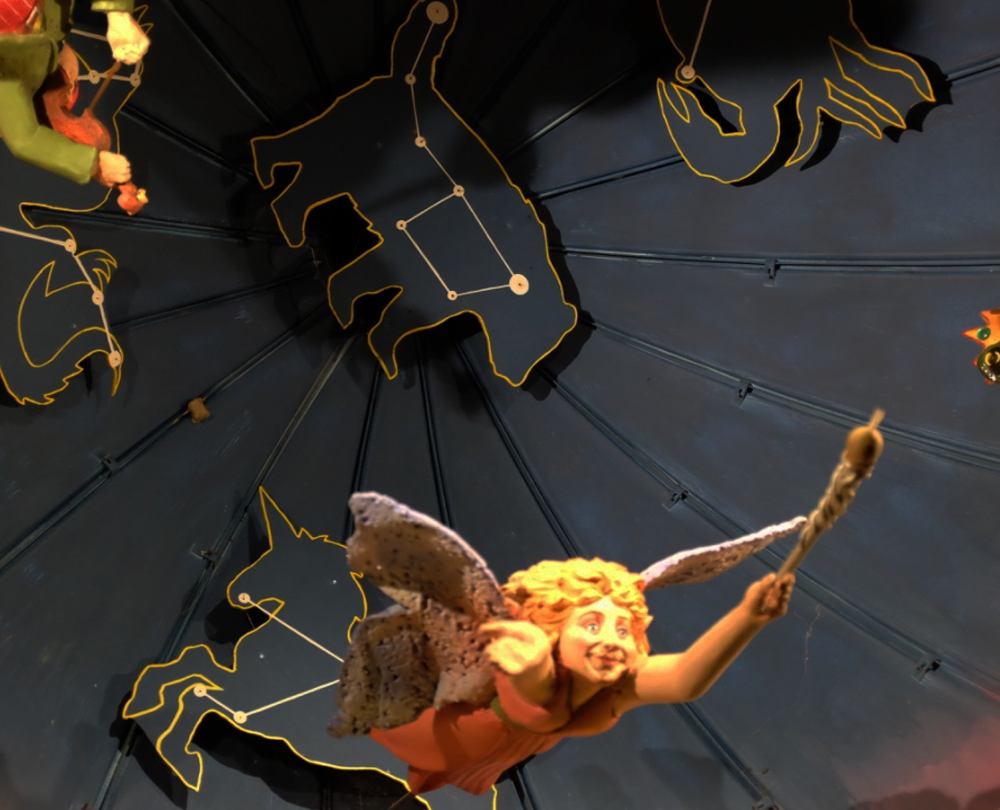 This fairy and these constellations were tucked in the ceiling next to the ticket window, impassively watching as yet another group exited. And, to my amazement, I didn't hear a single sly word: no one trying to be clever, no shitty irony. Just people quietly filing, figuring out what to do next en route to the parking lot or their awaiting Lyfts. Like the park, the crowd was surprisingly earnest. I saw and heard nothing that made my soft heart feel hurt on the place's behalf.
Fairyland isn't something people feel lukewarm about. Shortly after getting to the Bay Area (nearly two months ago now, wow), I went to roller derby and spotted a surprisingly large tattoo of the Fairyland logo on a woman, right where her neck met her shoulders, the colors and lettering vividly and accurately depicted. And when a friend visited recently (hi, Amity!), we were talking about the part of her childhood she spent in Alameda. I asked her about Fairyland, and she sighed and smiled. "Fairyland," she repeated back to me, her voice dreamy. Fairyland is serious business.
I still want to borrow a child and go back to Fairyland, ideally a patient one who doesn't mind me stopping and taking a million pictures, the way my company that night allowed me.
And so now, when I pass the part of the park where the trees are a little thin and I can see a brightly painted, 10-plus-feet-tall stack of books peeking through the leaves, it won't just seem incongruous. It will seem wonderfully unlikely, lovingly kept, and a well-regarded beacon of memory to the many, many joggers circling the lake.
I get it. And I'm grateful I got to go.
P.S. They only do this particular event once a year, but there are other adults-only/adults-allowed events here and there. Another one is coming up on September 25: Drawn Together, which combines local art and Fairyland, SIGH. I won't be here. If you can, though, I really hope you go.
*I tried to find the illustration Vonnegut did of the FAIRY LAND in the book, but it is apparently a vastly less popular scan than his asterisk asshole illustration from the same book.
**When I travel in a regular way, my non-lodging money mostly goes to museums, postcards, and food. In my time in Oakland and San Francisco, it's similar. I bring my lunch to school most days, so on the odd occasion that I want to eat something beautiful without feeling like a bad unemployed person, I usually go for it. Examples include San Francisco burritos, a fine veg burger at 21st Amendment on a very hungry day, and Thai noodles for lunch about once every two weeks. It helps that I get at least a couple quite good free meals each week at tech meetups. Tech meetups: never buy t-shirts or dinner again.