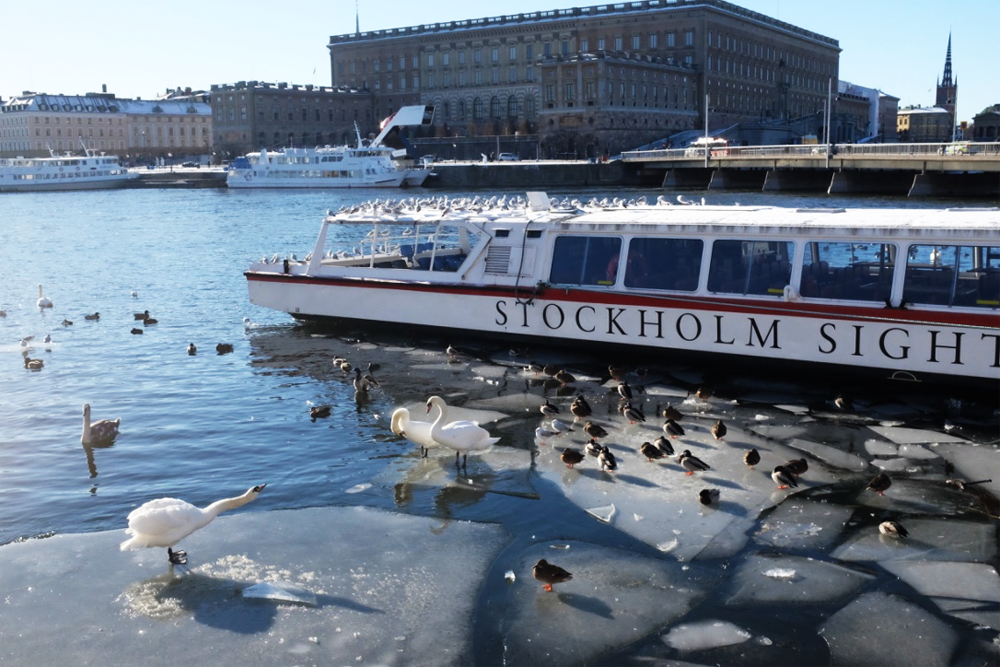 In November, Sweden and Denmark were not on the hazy, voluminous to-travel-to list I keep in my head. The top contenders right now are Peru, Mexico, Montreal, Washington DC, Thailand, and (of course) France. But almost everywhere that doesn't limit the rights of women, sexual minorities, or anyone considered gender variant is a contender, so it's hardly a limiting list. I liked Iceland for sure; I idly wondered sometimes if other Scandinavian countries had the qualities I liked about it. But that's as far as it went until one fateful day late last fall, when a friend who knows these things told me to get on the Norwegian Air site like right now, because there were round-trip fares from Oakland to Stockholm for around $318, if I picked my dates right.
What.
Cue a fairly adrenaline-chased hour, in which I frantically wrote to my boss, played with dates, tried to envision an unclear future*, and ultimately decided to book a trip and get it refunded in the following 24 hours** if it indeed would not work with work (which was and remains the major priority in my life right now). I found I almost literally could not resist traveling that kind of distance for that little money. As of this writing, a similar ticket through Norwegian is more than $1,000. Other airlines come in at $1,500 or more. Because it's a freaking flight across the world. 
Fortunately, my company is founded by and filled with insatiable travel fiends, and I was given the green light. At the end of what I thought would be a fairly ordinary workday, I suddenly had plans to travel to Sweden in the coming winter. Stunned and with plans to make, I tried to wrap my head around what I'd done by researching, starting with this unfamiliar airline. I learned that Norwegian has a different balance of services and fees as compared to most airlines. Thus, it required some strategy.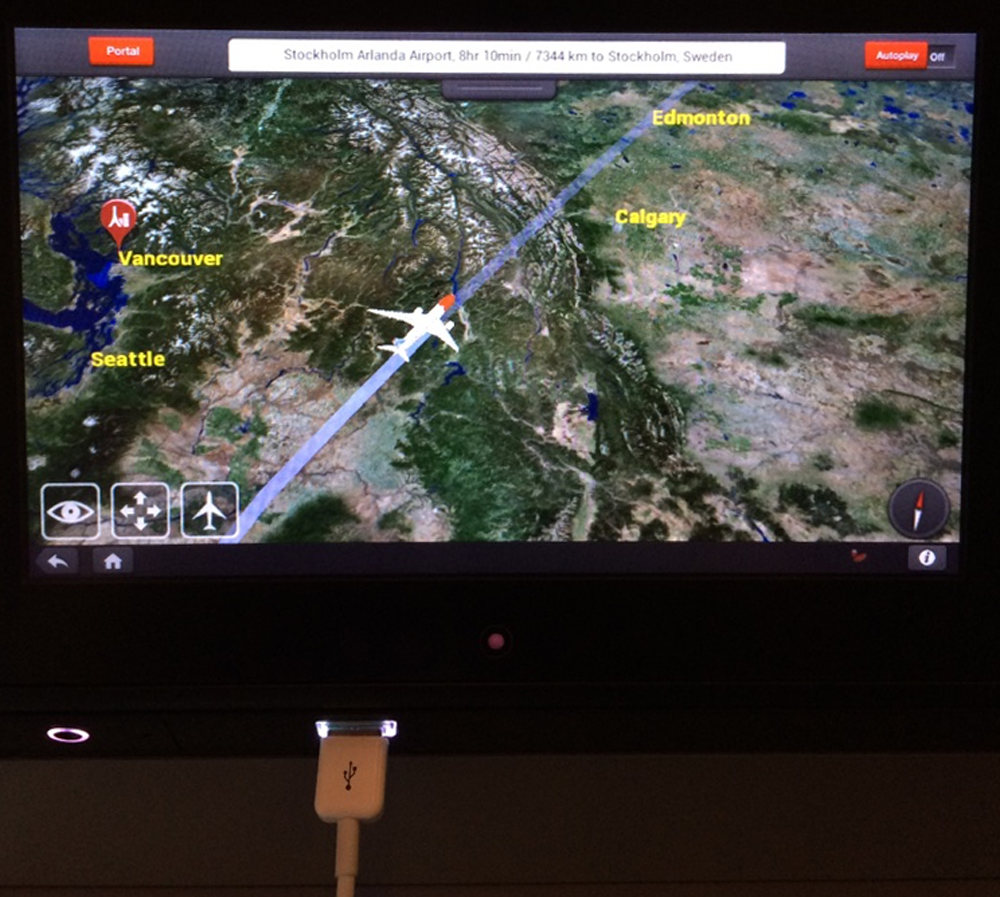 The A La Carte Model
In the US, we're not completely unfamiliar with this. It's pretty common on your average airline (Delta, American) to pay for blankets and snacks or to pay to check a bag. Then there are airlines like Spirit, where you might find a ticket somewhere for $6 but have to pay a couple hundred dollars or more for the amenities (carry-ons, water) to make your trip tolerable.
Norwegian falls somewhere in the middle. In the couple of months that passed after I booked the ticket, I did buy three add-ons:
I paid $45 to select my seat on the way there, because I figured there was a chance I might see the Northern Lights during the flight. I didn't, but it was worth it, for me, to pay for the possibility. Getting to the airport three-plus hours before the flight would probably accomplish the same thing for no extra money.
I paid $45 ahead of time to check a bag on the flight back. I did this so that I wouldn't have to look at any individual souvenir and wonder if it was worth paying for a checked bag later. I considered this a gift to myself, because I know my tendency toward overthinking.
I paid $15 for Fast Track through Stockholm airport security. On travel days, I'm nervous and unhappy until I'm through security and at the gate; this was, to me, a small price to pay for an easier travel day. It was ultimately pointless, as the regular security line was almost as short as the Fast Track lane, but the motivation was sound.
Things I opted not to pay for: $42 each way for drinks and two meals; a seat assignment on the way back.
One thing to keep in mind while booking is that they have different classes of service; indeed, the Norwegian booking path was one of the most complicated ones I've ever seen. I booked the cheapest level, which includes basically nothing; if you go a level or two up, meals, checked bags, a greater weight allowance for carry-on bags, and other things are included – but, of course, you pay for it then too. You can learn more about their fees, in a variety of currencies, here. Like many airlines in the style of European low-cost carriers, you'll pay twice as much to check a bag if you only decide to do it on the day of travel. And Norwegian Air's bag check is a highly involved procedure, you see.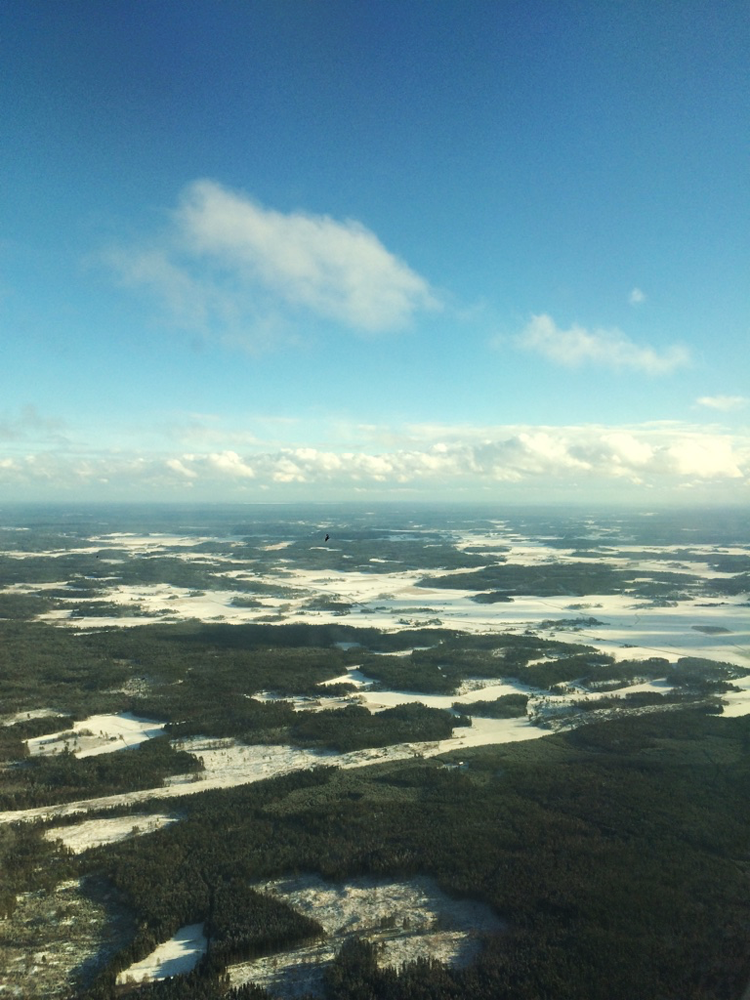 The Best Time I Weighed My Carry-On Like Six Times
Have you ever traveled during the winter? Your bags bloom to twice their usual volume. Have you ever tried traveling during the winter with a 10-kg/22-pound carry-on allowance? This is not your usual luggage Tetris.
I realized immediately that I'd be doing laundry while there. I was ok with that. And I wasn't tempted to check a bag on the way over, because I would be staying at four different places across my nine days, which would include multiple train and bus rides. My travel backpack and the cloth shopping bag I use on trips would be more than enough to deal with while going between spots. So economy of space (and money) was the name of the game.
The night before my departure, I managed to get my bag within the acceptable weight range after about five iterations. I did cheat in the end, stuffing the pockets of my coat with socks and tights and wearing my heaviest shoes and skirt. My coat felt like a pea pod, but it got my bag where it needed to be. In addition to the 10-kg main carry-on, there's a 5-kg limit on a smaller carry-on, in the vein of a laptop bag or purse. It helps, but it's not much when trying to envision a sensible wardrobe for Scandinavian winter. Something very helpful: they weigh your bags only at check-in, meaning you can stuff all available space with heavy water and snacks after you're past security.
I read several different accounts of the strictness of airport bag weigh-ins with Norwegian (they weigh, they don't weigh; they care, they don't care), but I decided to leave nothing to chance. (See: departure anxiety.) The day of, I arrived, carrying my uncommonly lumpy winter coat. I watched as person after person in front of me had their bags weighed and, often, found overweight. A quietly impatient (but very pleasant) ticket agent oversaw the whole thing, moving between two desk spots to give one group and then another time to shift weight between bags.
The group in front of me was a four-person family, and I had a feeling they hadn't been very fastidious with reading Norwegian's strict rules or with their packing. Indeed, all of their bags were somewhat over, and the agent left them with four open bags and looks of great uncertainty when she walked to me. After having to deliver bad news to several people within the previous ten-odd minutes, I think she just didn't want to bother with me. My bags read as sufficiently compact, it seems. I was given my boarding pass and was good to go, with no weighing required. Strategy: look like you know what you're doing, and be behind a bunch of people who don't? Or something like that.
On my return trip, since I'd paid to check a bag, the ticket agent didn't weigh my backpack then either. I still think I got off lucky and would not suggest assuming this might be your experience, especially if you read as a less-straightforward traveler, with kids, companions, lots of carry-ons, and other complications.
When I got through security in Oakland, I stuffed my small bag with snacks and an extra bottle of water, trying to imagine what would look good to me after nine hours in the air. The pasta was ok; the quinoa was so gross I felt haunted by it several hours later. I might've paid $42 just to get the taste out of my mouth after a while. Which brings us to…
The $42 Multi-Course Experience
This is where flying Norwegian got, to me, truly strange. Shortly after takeoff, the flight attendants walk around and double-check to see who ordered their meals ahead. About an hour into the flight, those people get coffee, wine, hot food, and dessert. (They get a cold breakfast bag not long before landing.) Only then is the possibility of buying snacks opened to the rest of us, usually about two hours into the flight. On the flight back in particular, I could see lots of people around me doing just as I was, checking the seat display to see when the closed tag would be taken off the snack bar button.
On the way back, I found buying in-flight snacks an almost frugal alternative to buying Swedish airport food, particularly after I accidentally spent $22 on an orange San Pellegrino and one of those lovely open-faced shrimp sandwiches. (Thank god I didn't get the beer; I'd probably still be there, working off the bill via indentured servitude.) However, the open times for snack ordering are finite and, to me, a little unpredictable. I ordered the vegetarian dish (a salad with hummus and assorted veg), a ramen cup, a snack box, and a water, because I didn't know if I'd get to order again when I needed a second meal.
If you like not thinking about things, maybe $42 for a one-way ticket of airplane food makes sense to you. However, most of the people around me appeared to have opted out. I saw clever people with leftovers in food storage containers and other people like me eating good-enough snacks bought at the airport, sufficient to get us to our destination.
The strangest thing was that, minus any pre-ordering, I felt pretty ignored by the flight attendants. If you haven't paid, you don't even get water. And they're mostly not concerned about you. You'll get attention if you ring the button to summon them, but otherwise, they don't even collect trash very often. It's a different model, but anytime I started to raise an eyebrow, I thought, "$318." And then it all became amusing again.
Conclusion: Super Worth It
I was a little concerned about this trip, based on some of the research I'd done. There were stories of being stranded for two or three days due to mechanical problems. Norwegian's fleet isn't huge, and they don't fly every route every day. When I booked, there were only three days each week to choose for my departure and return. If a plane went out of commission, a replacement might be thousands of miles away – and possibly also spoken for for a day or two. I said "$318" to myself one more time and said that, if I ended up with a couple surprise extra days in Stockholm, I'd make do (with profuse apologies to my work).
In the end, both flights were perfectly on time. My checked return bag made it with no problems. Flying out of Stockholm is a little odd – I went through an initial round of passport check to get into the international depatures area (to officially leave Sweden) and then an additional round to get into a separate gate area just for our flight (to comply with US regulations). But everything went exactly as promised, and I ended up with a surprise (and incredibly wonderful) trip to two countries I now love. But more on that later.
If a slight risk of inconvenience and having to work with a somewhat unfamiliar paradigm of airline service doesn't bother you, I'd suggest going for this, if you have the chance. Norwegian's sales aren't rare, and they're starting to go to more destinations. I subscribe to their emails now, and they've joined Icelandair in the short list of airline sale emails I am likely to push on friends.
If the timing is right, and the money works out? Do it. The details can come together later.
*I was maybe three weeks into a new job in a new industry and only recently permanently arrived in California. Travel was not on my mind.
**Like some other airlines, Norwegian lets you get a complete refund on a ticket in the 24 hours after booking. This is lovely, and I wish more airlines would adopt it.